Mytripmap wants to show on the map places and situations as valid alternatives to the incessant rain of autumn days.
Obviously each of us has their own preferences so I divided the map on levels according to the categories.
Let's start with a first consideration: in the summer when it is marked rain means "it will rain at 19.00 with a strong time of 4 minutes" and BASTA. So before canceling your outdoor plans consider the idea NOT to eliminate them and then regret them at the end of the day due to the lack of rain?
Exhibitions, museums, spas, caves and underground:
    To try
Dialogo nel Buio is an  exhibition / path  set up since December 2005 at the Istituto dei Ciechi in Milan. It differs from a traditional exhibition due to the total absence of light  and to the fact that visitors to explore environments must rely exclusively on the senses of  touch , hearing , smell ,  taste .
    Culture
Lombardy is full of interesting museums and also free to visit.
If you prefer buildings instead you may find interesting buildings in Milan and surroundings or villas and castles. (Take a look at the FAI page) as well as the Sundays at the museum that occasionally repeat themselves (go to the MORNING!)
Also, have you ever considered going to the theater ?
(photo: La Scala theater in Milan and  bibiena theater – Mantua theaters )
It is always under our eyes but we never visit it … the Duomo of Milan ! There is much more to see than you expected .. go on This link for a tour on the terraces, the museum and the archaeological area.
Some villas that  can be visited in Milan:
Villa Necchi Campiglio, Milan – The Beni del FAI
Villa Litta (Lainate) 2016: everything you need to know
Palazzo Visconti
click here to see the next scheduled visits
Villa della Porta Bozzolo (Varese)
and the Museums …
The Museo del '900 in Milan, The Prada Foundation, Mudec. Sometimes accessible for free
Bicocca Hangar (always free)
or visit the museum  Bin in rio 21 , from which went all the  convoys to Auschwitz.
Articles:
Things to do Indoor / indoor in Lombardy and Milan
    Food – Food
Restaurants are a good way to spend even the dullest days, especially if particular like those that you mark on the map. Even coffee shops with the possibility of both reading a book and eating are a valid alternative.
Here are some (on the map you will find others)
Gogol & Company , a bookshop-café where you can relax reading a book, or Crazy Cat Café  , the first and only Cat Cafe in Lombardy, comes from a great love for cats, or the beautiful Milanese terraces where you can have an aperitif, even if there it is bad weather, or delight you in one of the marvelous Marchesi pastry shops scattered around Milan or taking a chocolate from Italian chocolates
For a dinner at the restaurant even in bad weather, you always feel at home in the farms near Milan.
Camp restaurant of Cent Pertigh
    Excursions
There are many mines that can be visited. Recommended Schilipario Mines (make sure of openings)
Or discover the Secret and Underground Milan;
Take a trip to the heart of the city to discover the darkest hidden secrets. This is also the opportunity to travel through myths and legends in the company of a tour guide with a passion for the mysteries of the city. Find out more
    Sport
Trying new sports could distract you from the gloomy weather; from free climbing to bouldering; Climbing is a fun sport even if it requires a lot of strength and if you are a beginner you will definitely need to get muscles in your arms first. If you want to make less effort instead of practicing bouldering (low climbing) you can rock climbing with cables (but it will cost you more)
On Sundays you can enter freely, or take advantage of private lessons.
Info:  www.rockspot.it .
Foto  Indoor Climbing – Club Milano
    Relax
What's better than a relaxing bath and being pampered when it rains? You can find interesting offers online but the advice is to book a week in advance if it comes to offers. If you arrived late and researched at the last minute I recommend the spa by hours to pay a little 'less (like those of Sirmione )
You can do at the Baths of Milan or  while at' Hammam della Rosa you do the traditional route
(above, the Mandarin hotel)
(photo Harbor spa)
    Tour
Do you want to experience the city but do not want to be in the rain? Have you ever thought that many trams make interesting city tours, allowing you to visit the city center without having to worry about parking, fines and inaccessible areas? In Milan you can take tram 14 (avoiding rush hours). Are you a tourist and have never taken a tram? try  ATMosfera,  Milan's tram restaurant .

The Sapori train (Lake Iseo)
The Train of Flavors, an immersion in nature a stone's throw from the city, an experience to be enjoyed and savored.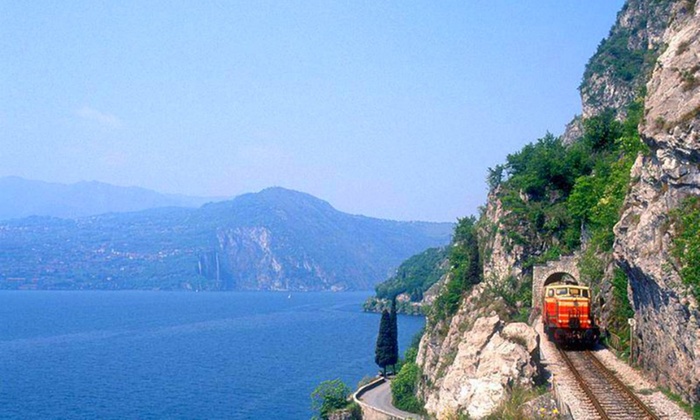 Shopping
If there is one thing that is not lacking is the possibility of shopping; Milan and its surroundings are lined with commercial centers, the largest of which is the center of Arese .
Let's not forget about fairs and markets even indoors; to find out what are going on next to you consult the blogs related to your city.
    Events
There are many events that are offered every week in the city of Milan and its surroundings.
How to search for events in Milan? The easiest way is to search on Facebook   (looking for a city name)
Or you can browse the information pages of your city such as
MilanoToday  for the city of Milan.
The  Wunder Mrkt  often hosts indoor events with food and shops.
On ViviMilano there is an updated list of Events, Fairs and Markets.
---
See also  Indoor / Indoor Things to do in Lombardy and Milan
SEGUICI SUI SOCIAL!
Ci puoi trovare su Instagram sotto il nome di @my.trip.map e @disciules

Su Facebook siamo mytripmaps
Puoi scoprire le nostre offerte di viaggio su @piccioneinviaggio
Iscriviti al gruppo Facebook per Travel Blogger
Infine, seguici su Tripadvisor
Scorpri i prodotti di tendenza su Amazon!

Questo sito contiene link di affiliazione ai prodotti. Potremmo ricevere una commissione per gli acquisti effettuati tramite questi collegamenti.